Ersatzteile für FAIP Montiermaschinen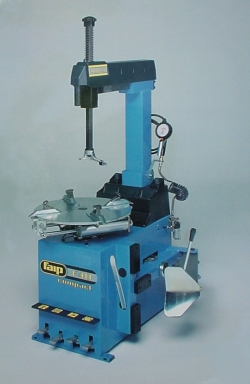 Wir liefern Ihnen Ersatzteile für FAIP und Beissbarth Montiergeräte.
Bestellnummern für FAIP Ersatzteile
Es gibt drei Arten von Nummern, die FAIP Ersatzteile bezeichnen:
Codenummer der Firma FAIP
Bildnummer der Montagezeichnung (FAIP)
Codenummer der Firma Beissbarth (9-stellig)
Wir verwenden ausschließlich die Bildnummern der Montagezeichnung (FAIP). Bitte geben Sie diese bei Ihrer Bestellung an. Alle Montage­zeichnungen der von uns bedienten Maschienen finden Sie unten auf dieser Seite.
Verfügbarkeit von FAIP Ersatzteilen
Wir haben einige der am häufigsten nachgefragten FAIP Ersatzteile vorrätig (z. B. Montagekopf, Montagekopf ganz aus Kunststoff, Dichtsatz für den Abdrückzylinder, Dichtsatz für die Zylinder unter der Montageplatte, Kunststoffbacken für die Montierspannklauen, kleine Kunststoffeinsätze im Montierkopf). Sollten wir das von Ihnen gewünscht Ersatzteil nicht vorrätig haben, bestellen wir es Ihnen gerne beim Hersteller, der Firma FAIP in Modena/Italien. Allerdings kann es vorkommen - speziell bei Montiermaschinen, die bereits 30 oder 40 Jahre alt sind - dass keine Ersatzteile mehr beschafft werden können.
Preise
Bitte kontaktieren Sie uns bezüglich Verfügbarkeit und Preisen.

Replacement Parts for FAIP tire changers
We can provide you with replacement parts for FAIP and Beissbarth tyre changers.
Order Numbers for FAIP Spare Parts
There are three kinds of numbers to classify FAIP spare:
code number of the company FAIP
image number of the assembly drawing (FAIP)
code number of the company Beissbarth (9-digits)
We only use image numbers of the FAIP assembly drawings. Please order your spare parts by image number only. All FAIP assembly drawings of tyre changers for which we provide spare parts can be found here below.
Availability of FAIP Spare Parts
We have some of the most popular FAIP spare parts in stock (eg, head assembly, head assembly out of plastic, various gaskets and cylinders etc.). In case you need a spare part we do not have in stock, we will order it for you from the manufacturer, FAIP in Modena, Italy. However, it can happen - especially when your tyre changer is 30 or 40 years old - that parts can no longer be procured.
Prices
Please contact us for availability and prices.
FAIP Montagezeichnungen / FAIP Assembly Drawing
Die Montagezeichnungen sind wahlweise einzeln als Bilddateien (.jpg) verfügbar, die sich beim Anklicken in einem separatem Browserfenster öffnen, oder, hochauflösend, im Paket als ZIP-Dateien, die per rechtem Mausklick heruntergeladen werden können.

The assembly drawings are available either separately as image files (. jpg), which open into a new browser window upon clicking, or as complete high-resolution zip-archives, which can be downloaded by right mouse click.


FAIP Name
Beissbarth Name
Verfügbare Montagezeichnungen /
Assembly Drawings Available

Montiergeräte für PKW
FAIP tyre changers for passenger cars

F 34
M 38
F34_0 (255 KB)
F34_1 (295 KB)
F34_2 (351 KB)
F34_3 (430 KB)
F34_4 (366 KB)
F34_5 (388 KB)
F34_6 (343 KB)
F34_7 (412 KB)
F34_8 (354 KB)

F34-Zip Archiv (4,4 MB)



NEU / NEW:

Zubehör / Accessories
-
M 42
M42_1 (325 KB)
M42_2 (319 KB)
M42_3 (300 KB)
M42_4 (250 KB)
M42_5 (309 KB)
M42_6 (372 KB)
M42_7 (238 KB)
M42_8 (245 KB)

M42-Zip Archiv (2,2 MB)



NEU / NEW:

Zubehör / Accessories
-
M 43 = Bravo 12
M43_1 (297 KB)
M43_2 (311 KB)
M43_3 (291 KB)
M43_4 (324 KB)
M43_5 (366 KB)
M43_6 (252 KB)
M43_7 (230 KB)

M43-Zip Archiv (1,8 MB)
Spezialliste Beissbarth M43, M50, M52 (1,6 MB)



NEU / NEW:

Zubehör / Accessories
F 35 = F 36
M 48
F36_0 (353 KB)
F36_1 (391 KB)
F36_2 (457 KB)
F36_3 (348 KB)
F36_4 (303 KB)
F36_5 (306 KB)
F36_6 (588 KB)
F36_7 (325 KB)

F36-Zip Archiv (4,6 MB)



NEU / NEW:

Zubehör / Accessories
F 36 Spezial
M 48 S
F36spezial_0 (312 KB)
F36spezial_1 (429 KB)
F36spezial_2 (459 KB)
F36spezial_3 (346 KB)
F36spezial_4 (344 KB)
F36spezial_5 (315 KB)
F36spezial_6 (555 KB)
F36spezial_7 (307 KB)
F36spezial_8 (473 KB)

F36spezial-Zip Archiv (5,4 MB)



NEU / NEW:

Zubehör / Accessories
F 40 Compact 19"
-
F40compact19_0 (271 KB)
F40compact19_1 (447 KB)
F40compact19_2 (436 KB)
F40compact19_3 (356 KB)
F40compact19_4 (370 KB)
F40compact19_5 (291 KB)
F40compact19_6 (561 KB)
F40compact19_7 (400 KB)

F40compact19-Zip Archiv (4,9 MB)



NEU / NEW:

Zubehör / Accessories
F 40 Compac 20"
M 50 = Bravo 22
F40compact20_0 (304 KB)
F40compact20_1 (405 KB)
F40compact20_2 (456 KB)
F40compact20_3 (348 KB)
F40compact20_4 (319 KB)
F40compact20_5 (317 KB)
F40compact20_6 (556 KB)
F40compact20_7 (375 KB)
F40compact20_8 (218 KB)

F40compact20-Zip Archiv (5.0 MB)
Spezialliste Beissbarth M43, M50, M52 (1,6 MB)



NEU / NEW:

Zubehör / Accessories
-
M 52 = Bravo 32
M52_1 (383 KB)
M52_2 (210 KB)
M52_3 (305 KB)
M52_4 (316 KB)
M52_5 (194 KB)
M52_6 (299 KB)
M52_7 (309 KB)
M52_8 (332 KB)

M52-Zip Archiv (3,5 MB)
Spezialliste Beissbarth M43, M50, M52 (1,6 MB)



NEU / NEW:

Zubehör / Accessories
F 40 STD
M 55 STD
F40std_0 (270 KB)
F40std_1 (351 KB)
F40std_2 (388 KB)
F40std_3 (321 KB)
F40std_4 (338 KB)
F40std_5 (336 KB)
F40std_6 (411 KB)
F40std_7 (291 KB)
F40std_8 (234 KB)

F40std-Zip Archiv (4.4 MB)



NEU / NEW:

Zubehör / Accessories
F 40 Super G.P.
M 55 Super G.P.
F40super_0 (334 KB)
F40super_1 (400 KB)
F40super_2 (429 KB)
F40super_3 (324 KB)
F40super_4 (327 KB)
F40super_5 (399 KB)
F40super_6 (418 KB)
F40super_7 (333 KB)
F40super_8 (184 KB)
F40super_9 (237 KB)
F40super_10 (459 KB)

F40super-Zip Archiv (5,9 MB)



NEU / NEW:

Zubehör / Accessories
F 40 Royal
Servomat M 60 Royal
F40royal_0 (155 KB)
F40royal_1 (375 KB)
F40royal_2 (290 KB)
F40royal_3 (353 KB)
F40royal_4 (405 KB)
F40royal_5 (367 KB)
F40royal_6 (449 KB)
F40royal_7 (440 KB)
F40royal_8 (233 KB)
F40royal_9 (298 KB)

F40royal-Zip Archiv (5,2 MB)



NEU / NEW:

Zubehör / Accessories

Montiergeräte für LKW
FAIP tyre changers for freight vehicles

Project 26
M 70 Servomat Project 26
Project26_1 (262 KB)
Project26_2 (402 KB)
Project26_3 (426 KB)
Project26_4 (310 KB)
Project26_5 (339 KB)
Project26_6 (419 KB)
Project26_7 (365 KB)

Project26-Zip Archiv (3,9 MB)
Fighter 56
M 75 Servomatic Fighter 56
Fighter56_1 (260 KB)
Fighter56_2 (394 KB)
Fighter56_3 (358 KB)
Fighter56_4 (369 KB)
Fighter56_5 (273 KB)
Fighter56_6 (392 KB)

Fighter56-Zip Archiv (3,2 MB)
Fighter 56 Automatic
M 75 A Servomatic Fighter 56 A
Fighter56automatic_1 (375 KB)
Fighter56automatic_2 (396 KB)
Fighter56automatic_3 (413 KB)
Fighter56automatic_4 (397 KB)
Fighter56automatic_5 (332 KB)
Fighter56automatic_6 (243 KB)

Fighter56automatic-Zip Archiv (3,3 MB)
Challenger 56
-
Challenger56_1 (411 KB)
Challenger56_2 (299 KB)
Challenger56_3 (512 KB)
Challenger56_4 (481 KB)
Challenger56_5 (379 KB)
Challenger56_6 (380 KB)
Challenger56_7 (340 KB)
Challenger56_8 (383 KB)

Challenger56-Zip Archiv (5,0 MB)

Weitere ältere FAIP Montiergeräte
More early FAIP tyre changers

F 22
M 32
F22_1 (535 KB)

F22-Zip Archiv (868 KB)
F 24
-
F24_1 (251 KB)
F24_2 (348 KB)

F24-Zip Archiv (892 KB)
F 68
-
F68_1 (494 KB)

F68-Zip Archiv (789 KB)
F 74
-
F74_1 (467 KB)

F74-Zip Archiv (744 KB)
F 76
-
F76_1 (415 KB)

F76-Zip Archiv (666 KB)
AS 10
M 22
AS10_1 (501 KB)
AS10_2 (279 KB)
AS10_3 (292 KB)
AS10_4 (210 KB)
AS10_5 (252 KB)

AS10-Zip Archiv (2,4 MB)